abril 26, 2013
I am so happy that Mindfulnets ™ is helping so many people to train mindfulness online. So far, we are more than 1,100 users reaching almost half million of meditation minutes online.
Now is moment to further evolve this great platform with more features and contents. Please help me and let me know your comments and feedback on the current beta version:
1. What do you like the most?
2. What do you like the least?
3. What would you like to be included?
Please send me an email with your answers to miguel.quintana@mindfulnets.co  I will work mindfully with your feedback to further evolve Mindfulnets ™.
Thank  you for your presence, with your help we will keep climbing.
Miguel Quintana
Fouder of Mindfulnets
abril 15, 2013
Runners are very much likely to experience what it has been described as a flow state, being in the zone or just become a mindful runner.
Here it is described, a pure mindful experience when running: "When I run, I am very focused on the signals from my body, the sensation within my body and its interaction with the external environment, and time seems to slow down… but thoughts come to mind, mostly simplified in the form of images or ideas. Anxiety and worry and depressive feelings disappear, and you are more in contact with yourself, or your core. That feeling is very pure.  " Lindsey T. (a marathon runner from Sweden).
Lindsey recalled and described her experience after reading a scientific article about monitoring real-time the cognitions of runners while running.  "I read this article today and I found the area very interesting! I can relate my runner's experience to the results of this study…"
If you are a runner, enhance your experience with a mindful attitude and become one with mind, body and spirit.
abril 10, 2013
Here there are 20 reasons why you might want to consider incorporating mindfulness meditation into your daily life. This is just the first:
#1 It lowers stress — literally. Research published just last month in the journal Health Psychology shows that mindfulness is not only associated with feeling less stressed, it's also linked with decreased levels of the stress hormone cortisol.
Read the full article HERE
marzo 8, 2013
A CONSCIOUS LIFESTYLE. We are happy to introduce Mindful Eating – a conscious lifestyle involving food, health and change with mindfulness. The program is the first of it´s kind in the world.
You are invited to explore, challenge, and respond to bodily signals, thoughts, feelings and behavioral patterns that have led to, unhealthy eating habits, stress with food, overweight or maybe even to experience ill health.
The program is about looking after your body and health with greater awareness. The challenge lies in becoming aware of when, where and how you eat and in being able to change your habits. You will be exploring and challenging them for eight weeks.
The goal can be losing weight or simply enjoying your food more, befriending your body, being able to eat with others in a natural way or being less stressed about food. Visit www.mindfuleatingnow.com to explore it.
This program has been created by Åsa Palmkron Ragnar, MD and Katarina Lundblad, MBSR-teacher
marzo 5, 2013
When it's time to suffer, you should suffer; when it's time to cry, you should cry. Cry completely. Cry until there are no more tears and then recognize in your exhaustion that you're alive. The sun still rises and sets. The seasons come and go. Absolutely nothing remains the same and that includes suffering. When the suffering ends wisdom begins to raise the right questions.
- Seido Ray Ronci, "The Examined Life"
Via Richard Johnson, PhD, mindfulness teacher.
marzo 4, 2013
With no wind blowing
It sifts gently down,
Enclosing my world in
A cool white down,
A tenderness of snowing.
It falls and falls like sleep
Till wakeful eyes can close
On all the waste and loss
As peace comes in and flows,
Snow-dreaming what I keep.
Silence assumes the air
And the five senses all
Are wafted on the fall
To somewhere magical
Beyond hope and despair.
There is nothing to do
But drift now, more or less
On some great lovingness,
On something that does bless,
The silent, tender snow.
From "A year of being here project". "Snow Fall" by May Sarton, from Collected Poems: 1930-1993. © W.W. Norton & Company, 1992.
Photography credit: Paul Gutelius, 2006 (originally black and white).
febrero 28, 2013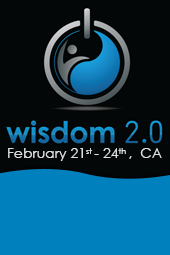 This past weekend took place in San Francisco the conference called Wisdom 2.0, which is designed to address "the great challenge of our age: to not only live connected to one another through technology, but to do so in ways that are beneficial to our own well-being, effective in our work, and useful to the world."
See this article of Arianna Huffington, one of the outstanding key speakers on the stage.
febrero 19, 2013
Fascination can be defined as attention without effort. When we get fascinated by something, our full attention is right in the here and now experience.
Getting fascinated with the tiny aspects of life as they were seen for the first time, having a beginners mind as you were a kid.
Mindfulness is the state of being fascinated, the state of feeling an intense interest in something in a particular moment by moment experience.
What does fascinate you? What does it make you to be completely inmerse in the present moment?
EXPLORE IT AND LIVE IT.
febrero 9, 2013
After rain after many days without rain,
it stays cool, private and cleansed, under the trees,
and the dampness there, married now to gravity,
falls branch to branch, leaf to leaf, down to the ground
where it will disappear–but not, of course, vanish
except to our eyes. The roots of the oaks will have their share,
and the white threads of the grasses, and the cushion of moss;
a few drops, round as pearls, will enter the mole's tunnel;
and soon so many small stones, buried for a thousand years,
will feel themselves being touched.
by Mary Oliver
diciembre 31, 2012
Now that 2012 comes to a close, we want to thank you for your commitment and for every single minute you have devoted to nourishing your presence on Mindfulnets and beyond. By the practice of the open heart you have contributed to a more compassionate world.
For this upcoming year, we wish to fully open up our hearts to the experiences that we will face on our way and to live them with awareness and understanding. The path of a happy life is paved with mindfulness and living with mindfulness is the gate to meet our true nature.
May the New Year 2013 be an open gate to joy, gratefulness and compassion.
The mindfulnets team
Award-winning photo courtesy of Olivia Quintana